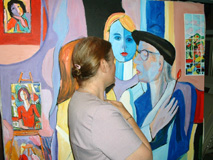 MY
FAMILY




Artwork by Manor Shadian
Born in Ireland,

My name is Geraldine

Married in the Holy Land

When I was just nineteen.

My husband, a master of fine art,

Gifted on his own.

Our three sons, close to my heart

Upright, young men have grown.






A Match Made in Heaven

As the willow bends towards the stream,
My love was drawn to me.
The memory of a distant dream.
My dance partner it was he.
Our meeting was by God designed.
He moved within our heart.
Another rendezvous declined.
If not we'd be apart.
Our eyes they met across the room.
He felt love at first sight.
I did not know he'd be my groom,
As I sat by him that night.
It was a perfect Israeli eve,
The moon shed a silver glow.
The soft breeze a spell did weave.
And love began to grow.
It did not take us very long ,
To choose to become wed.
Or love was passionate and strong,
No matter where life led.
Now after more than forty years,
I view in retrospect.
Times filled with joy and some with tears,
God was our architect.
Our three sons grew up well,
As God controlled their fate.
We pray that they will also dwell.
With God's decreed soul mate.












SOUL MATES
TWO NAMES CARVED UPON A TREE
BLOSSOMS OF LOVE BETWEEN HER AND HE
AS CHILDHOOD BLENDS WITH TEENAGE YEARS
HE IS THERE TO COMFORT, QUIET GIRLISH FEARS
TIME MOVES SWIFTLY ON, IT, NONE CAN HOLD
THEY GROW APART AS COLLEGE, AND CAREERS UNFOLD
EACH ONE INVOLVED WITHIN THEIR LIVES APART
YET STILL THE TIMELESS THREAD WILL TIE THEIR HEART
NEITHER SETTLE DOWN, NO HUSBAND OR WIFE
EACH ONE IMMERSED WITHIN THEIR SEPARATE LIFE
YEARS EBB AND FLOW, BUT MEMORIES REMAIN
AS GOOD AND HARD TIMES, RISE AND WANE
TO RETURN HOME FOR A WHILE THEY BOTH DO YEARN
OLDER, WISER, YET THEIR SPIRITS BURN
ON A HOME TOWN SIDE WALK ONCE AGAIN THEY MEET
SOULS ENTWINED WITH SOUNDLESS PASSION BEAT
THE LOVE THAT NEVER FADED BLOOMS ANEW
AS HAND IN HAND WITH JOY THEIR FUTURE VIEW.

Runner up for Poetry Competition:KAOI radio 2005