Geraldine Shadian: Poet & Writer
My Faith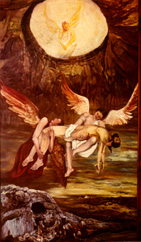 THE GOOD NEWS

Listen, listen one and all, what a tale I've got to tell.
It is call the Gos-pel, do not confuse it with "Godspell".
Two thousand years quite long ago, God sent his Son to the world below.
This man did miracles and other great deeds, He also planted many seeds.
For three years He taught alive, his twelve apostles they did thrive.
His teaching quoted to these days, seen in action in many ways.
But Messiah's time on earth was selected, some received him, many rejected.
He gave his life for us voluntarily, when they crucified him on the terrible tree.
The sins of mankind on his body lay, The last words He was heard to say,
"Forgive them, they know not what they do". Through him we are born anew.
Because the man was pure perfection, we have the miracle of his resurrection.
His life for the sins of all He gave, believe on him He has power to save.
To all who receive Jesus and become his bride, the way to God's throne room is open wide.
As Isaiah said in verse fifty -three ,"Who has believed?", but all will see.
When we meet God in His Kingdom face to face, only Believers will stay in that place.


Old City of Jerusalem
Pesach Past


Pesach was coming, dishes sparkled,
Both sets, washed bright and clean.
The clay casks of raisin wine,
Arrived upon the scene.

Roasted coconut and carrot candy,
The aroma of holiday fare.
Matzo balls and kugel too,
Charoset made with care.

At last the special night arrived,
The house bare of all yeast,
White lace cloth, laid with pesach best,
On show, the wonderful feast

Mom and Dad were on the end,
Grandpa and Grandma, the head
Four sisters and brother at the side,
The Hagaddah was read.

We told the freedom tale once more,
Embellished with songs, just ours,
The youngest, all four questions asked,
The seder lasted hours.

All was displayed, both bitter and sweet,
The food the very best.
The blessings even greater,
When we had an extra guest.

We watched Elijah's cup to see,
How much he came and drank.
The afikomen shared with all,
In prayer our God we thank.

The finale of this different night,
When we were still quite young.
The five of us in harmony,
Sang, many a favorite song.





MY FAITH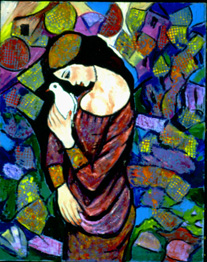 THE GIFT OF GRACE
It happened many years ago,
God his everlasting grace did show.
"Late Great Planet Earth ", was the book,
Read it once , that's all it took.
It shows that the prophet contrives,
To change the direction of many lives.
It pulled me from sin's disgrace,
To receive the blessing of God's grace.
He did not want me, forever lost,
His Son paid the ultimate cost.
So I could be born again
Yeshua's death freed me from sin.
Who would imagine or even have thought
A Jewish woman could be taught.
Messiah's sacrifice a reason to worship.
And I could now, have a relationship,
With almighty God, there's only one.
We can draw close to Him because of His Son.
Even if I live a hundred years on Earth.
No gift can surpass this spiritual birth.


DAVIDIC DANCE

When I hear the sound of the fife and drum,
I want to sing out with a voice fulsome
The sound of the music makes me gay
It uplifts me from day to day.
To dance in vibrant bright colored clothes
To share the song with some of those
Who sing and dance within God's sight
On sunny days or starlit night.
To have freedom without fear
To improvise the steps with care.
To twist, to twirl, to whirl around
To jump for joy, feet off the ground
To flee from all of life's restraints
The music varied as a palette of paints.
To dance on, not touching a shimmering stream
To be alive and to reach a dream.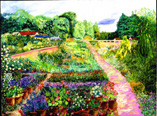 Gifts

The world is full of beauty
Moonlight sparkling on the bay
Golden days flower filled
Windswept marshes gray

Summer rain petal soft
Green valleys, bubbling brooks
Of these poets write and artists paint,
The scenery filling books.

But there are gifts, not seen with eyes
Yet without compare,
Jesus our Savior forever more
His presence always near

Unconditional love of God
A Spirit filled soul of prayer
Acquiring knowledge, joy, and peace
Always blessings everywhere.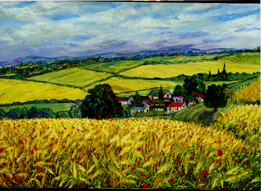 Gods Presence

God is on the battlefield,
He is also in the air.
Even though he is unseen
He is always there.

Especially in hard times,
With pain beyond compare
Also in the times of joy,
You are still within His care.

God creates the seasons,
Springtime buds, or Winter bare,
Summer breeze, Fall colored leaves,
He is always here.